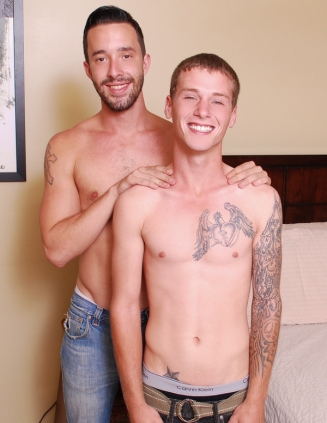 Nate and Isaac can barely keep their hands off of each other long enough to get undressed! But
once the clothes do come off, it's not long before Nate is going down on Isaac, sucking his cock and
getting it nice and wet. They get on the bed and Nate continues working Isaac's rock hard dick,
running his tongue all along the shaft before Isaac pulls him off and gets his cock ready for Nate's
tight ass. He lubes his dick up and shoves it into Nate's ass, standing over him as he fucks him
hard. Once Isaac has gotten his fill of being in charge, he climbs onto the bed and Nate gets on top,
riding Isaac's thick cock. He bounces up and down, ramming Isaac's member deep into his tight
hole. Nate climbs off after awhile, letting Isaac take the lead again as he lays down on the bed,
Isaac pumping him full of his throbbing dick as they both moan in pleasure. Ready for release,
Isaac pulls out and straddles Nate, pumping his dick with his hand and shooting his white hot load all
over Nate's face!