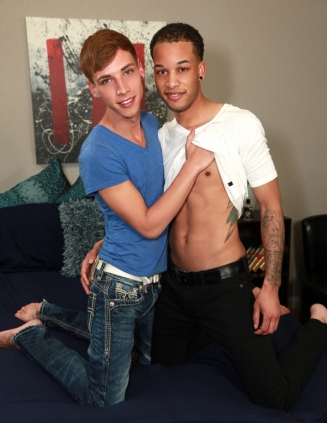 Jordan and Damon keep it light and fun but once the clothes come off and the kissing starts, they
get a little more serious. They make out for a bit, getting a little taste of each other before Damon
goes down on Jordan, getting his cock hard with his warm mouth. Jordan thrusts his dick deep into
Damon's throat and Damon takes that cock like a pro. He stands up and they exchange some more
kisses before Damon lies back on the bed and Jordan kneels between his legs, taking his dick in his
mouth and getting it good and wet as he pleasures him. He runs his tongue along Damon's balls
and up his shaft before focusing on the sensitive tip. Damon loves watching Jordan drool all over his
huge cock and Jordan certainly knows how to please! But as much as Jordan loves the taste of
Damon's dick, he knows he'll love the feeling of his tight ass even more. Jordan sits down in the
chair and Damon lubes up, climbing on top of Jordan and sliding Jordan's cock inside. Damon
bounces up and down while Jordan thrusts his throbbing dick deep inside. But these two want to try
a different angle and they stand up, moving over to the bed as Damon bends over, ready and
waiting for Jordan's dick! Jordan doesn't keep him waiting for long as he shoves his cock inside
Damon's ass and fucks him, going fast and then slow, keeping Damon on his toes. After awhile,
Damon lies on the bed on his back and Jordan, standing above him next to the bed, sticks his hard
dick inside and pounds him hard and fast. Damon works his own member with his hand, tugging on
his cock as he enjoys the feeling of Jordan buried deep inside him. When he can't wait any longer,
Jordan pulls out and shoots his load on Damon, covering his belly with his hot jiz. Damon busts a
nut too, getting himself off all over his abs!