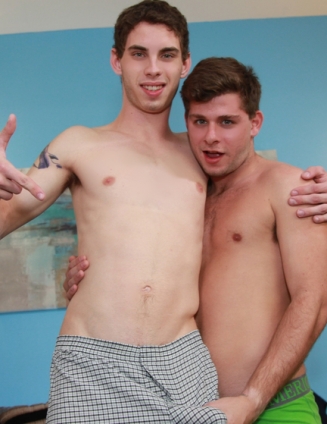 AJ and Sam don't hesitate to jump right in and get things started, and things heat up real quick with
these two! AJ shows his assertive side and claims Sam's mouth with kisses as the two undress, and
it's not long before AJ has Sam on the bed with Sam's toes in his mouth…and then his cock in his
mouth! AJ does his best to deepthroat Sam's enormous dick as he works his own dick with his hand.
He runs his tongue along Sam's sensitive tip as his hand moves along the shaft, but Sam wants a
taste of AJ as well! He goes down on him, pulling AJ's member in and out of his warm mouth,
getting that dick good and wet as he sucks on it. But AJ and Sam are both ready for more, eager to
take it to the next level, and they both lube up as Sam climbs on top of AJ and slowly slides AJ's
cock into his super tight ass. Once it's in he bounces up and down on AJ's dick, ramming that cock
into his entrance as AJ slaps his ass. They change it up a bit and AJ fucks Sam doggy style,
pounding him hard as they both moan in pleasure. He spanks Sam some more as he pumps him full
of his rock hard dick, moving faster and faster as he fucks him. AJ flips Sam onto his back and
pounds him like that, kissing his foot and sucking on his toes as he moves his dick in and out of
Sam's ass. Sam can't take the pleasure anymore and shoots his load all over. AJ pulls out and
comes within seconds, spraying Sam with his hot jiz!