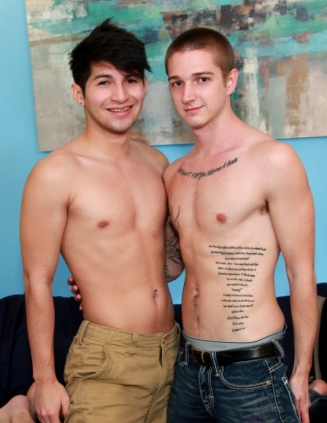 Ethan is a quiet guy, but that doesn't matter because once these two get started, there's no need
for much talking! They exchange some kisses and touch each other a bit before Ethan goes down on
Zach, getting his dick sloppy wet as he sucks on it, pulling it in and out of his mouth and making it
grow! But Ethan is in for quite a treat as Zach bends him over and runs his tongue along his
asshole, licking it and teasing that sensitive ass with his finger before he shoves his dick inside.
Zach doesn't give Ethan much time to adjust to his size before he's pounding him hard from behind!
He pumps him full of his hard cock before they both lie on their sides and fuck that way, making out
a little and biting each others lips as Zach buries himself deep inside Ethan. Zach gives Ethan's ass a
break as he takes Ethan's dick in his mouth and sucks on his cock, working the tip with his tongue
and moving his hand along the shaft. After he's taken his time with Ethan and fucked his uncut cock
with his mouth, he shoves his dick back inside Ethan's tight ass and pounds him hard and fast as
Ethan shoots his load. Once Zach pulls out it's not long before he comes, busting a nut all over
Ethan's cock!