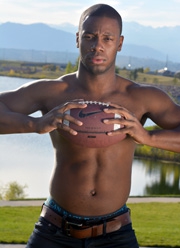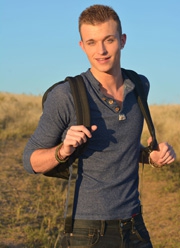 Dante Monroe is a newbie and a true college dude, and he's looking to bust a nut with the help of Taylor Blaise! Taylor admires Dante's body, appreciating all the chiseled muscles from his years playing football, and he plants kisses across his toned body and down to his cock, taking it out of Dante's pants and sucking on it before going back up to make out a little.
But Taylor hasn't gotten enough of Dante's meat, and he gives him some more head before they 69 on the couch, getting one another good and hard before Dante bends Taylor over and shoves his cock inside of his tight little ass. Taylor moans as he takes that dick, letting Dante ride him hard and deep, his balls slapping against Taylor's ass as he fucks him. They move over to the bed next and Taylor straddles Dante, sitting down on his prick and riding it, up and down, in and out, making his ass sore as he bottoms for Dante.
They change it up one more time, Taylor on his back and Dante on top of him with Taylor's legs on his shoulders, spreading that ass wide open for Dante as he pumps Taylor full of his hard cock. Taylor shoots his load with Dante still buried deep inside of him, and Dante busts a nut as Taylor sucks on his nipples and plays with his balls!