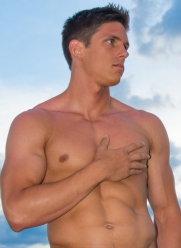 It's been quite awhile since Troy and Alex have gotten laid, so these boys have some pent up energy they need to release...and what better way to release that energy than by getting a little naughty with each other!
The way these two muscular studs eye each other will tell you that they can't wait to get to fucking and sucking, but they take their sweet time getting there! These two swap some spit, making out as they rub their cocks together, Troy sucks on Alex's nipples, they pump their own dicks until finally we get to the cock-sucking as Troy shoves Alex's meat down his throat and takes his balls in his mouth.
Alex is craving some cock and deepthroats Troy's massive member, going balls deep before Troy takes his cock out of Alex's hot mouth and puts it in his tight ass! Alex sits on that dick while Troy fucks him, and then he bends over the bed and takes Troy's cock a different way, letting Troy pound him hard and deep until finally they both cum all over Alex's chiseled abs!